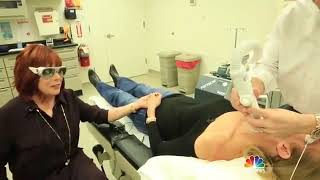 Looking for the best fusion between human intelligence and machine? We've got the Aerolase laser treatment for that! It's the next big thing in the market that can do it all and an aesthetic medical laser that makes treatment for all skin types and tones possible for a full range of aesthetic and medical conditions including skin tightening and rejuvenation, hair reduction, acne, rosacea, spider veins, nail fungus, and more.
This machine's unique 650-microsecond technology eliminates discomfort during treatment and provides safe, highly effective results for even the darkest skin tones. What makes it even more unique is the gentle experience you get that's unrivaled in dermatology and aesthetics. Experience no downtime at all after your treatment so you can go about your day like you never had laser treatment at all!
Acne Therapy
Apply safe and effective acne spot treatments to tackle mild to moderate acne, remove excess facial oils, exfoliate dead skin cells, and clear pores. Achieve skin-soothing care overnight with these products.
Melasma and Hyperpigmentation
Hyperpigmentation is a condition where the skin is discolored. Melasma is a kind of hyperpigmentation. Get our trusted experts to address skin discolorations. Learn more about it.
Rejuvenation and Tightening
Benefit from long-lasting immediately visible results of skin rejuvenation. There are pleasant and speedy treatments and procedures that progressively freshen the skin.
Rosacea, Redness, and Veins
Redness on the face that causes a rubicund, sunburnt appearance, bulging veins, and sometimes an irritable feeling. See the medical therapy available to detect and reverse the signs and symptoms greatly.
Psoriasis
A buildup of skin cells that show patches of flaring red spots and scales in cracked and dry skin noticeably itchy, sore or swollen. A combination of different medications and treatments is required to manage psoriasis.
Nail Fungus
A fungal infection outwardly manifests a brittle, thickened, and discolored appearance and distinct odor in the finger or toenails. Self-care may need to be supplemented with the right persistent treatments.
Before and After